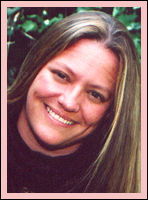 My name is Viky Petermann. I was born in Spain and came to live in Cape Town (South Africa) as a young woman. I fell in love with this beautiful city and I met my husband Erik while studying at Cape Town University. I have a degree in Fine Art and a Diploma in Graphic Arts.

I have two beautiful children, a 5-year-old boy, Hakon and a 16-month old girl, Kyra. I started making bears when I fell pregnant with my son 6 years ago. At that time it was very difficult to find bear making supplies in this country so I was forced to improvise with different fabrics and other materials. Three years ago, again pregnant !! I discovered a whole world of teddy bear making suppliers on the web and at the same time discovered a new little shop in Cape Town which stocked all my requirements and of course among this I discovered mohair and upholstery velvet.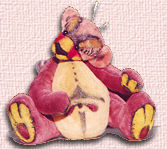 I usually make bears ranging in size between 2" and 14" although I sometimes try my hand at tiny 1" bears (usually as accessories to my miniatures) and at other times I enjoy making 22" giants !! I love working in both mohair and upholstery velvet and I have great fun choosing my fabrics and making accessories for each individual bear.
I have always made my own patterns and most of my bears are one of a kind although sometimes I make small limited editions. Every bear is special and a lot of love and care goes into giving each of my creations its own distinct personality. I find the faces to be particularly important and each of my bears is extensively soft sculpted to create its special look.
Thank you for visiting my web site and please contact me if you like to purchase one of my bear or you need to order similar bears.. any enquiries are welcome any time too.. thanks again and enjoy the visit , look around and please sign my guest book ...
| Home | Catalog | Gallery | Patterns | Order | Links | WebRings | E-Mail |
All contents & graphics of this site are copyright © 2001 "Happ Hug / Viky Petermann" All Rights Reserved